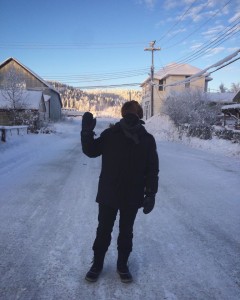 Hello from Dawson City, Yukon!
I'm spending the month of January as songwriter in residence with the Dawson City Music Festival. This quiet little gold rush town is currently under a blanket of white, and still as can be. Long tails of smoke slipping from every chimney into the calm that surrounds. Beautiful and mysterious, much like home (NL). A great time for meditation and future planning. I'm in the ever-haunted Macaulay house, working on new music to be recorded in February at McGill University in Montreal. I've also been branching outside of songwriting, working on other written pieces which will hopefully come to light this year or the next.
I'll be guest hosting a show on Dawson's own CFYT this Wednesday, January 18th at 6pm (10:30pm NL time). I'll be playing some music that's caught my attention lately, with a brief segment on NL music as well. You can tune in online here… http://cfyt.ca/listen-live
Also! New shows coming up. Starting with a show on February 1st here in Dawson City at the KIAC Ballroom. I'll also be playing at one of my favourite spots in Montreal Le Cagibi on Wednesday, February 8th. Keep your eyes peeled to the "Shows" section for more details soon.
I hope you've been settling into winter wherever you may be.
More to come,
SM